Category: Words of Bliss
When you're following your bliss, you'll notice the path may reveal itself. There are no longer obstacles which block your success. Everything is effortless and easy. The right people show up in your life to help you advance forward. The right circumstances befall you at the right time; since you're now in alignment with nature and universal energy. Your authentic self means awakening to the magic; the splendour and beauty of your birthright. Most will never experience the delight of becoming their best, since they believe it to be untrue. They feel unworthy of being all that nature had intended for them.
Read More

Latest Magazine
Spring 2017 Nature Edition
Messages of goodness, wellness articles, planetary news and much more.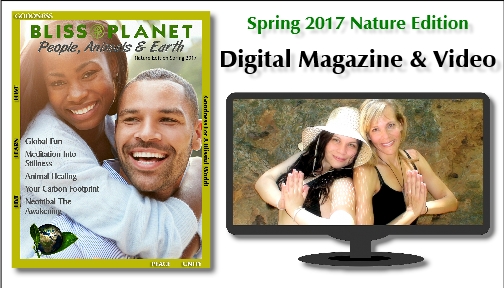 Community
Community
Amplify Goodness at the Bliss Planet Community.
Community Login
Wellness Certification Course
Course For Wellness Specialist Certification
Empower people to function and feel their best! Get Certified and become a wellness professional with expertise in mental health, nutrition, fitness, toxic free living and bio energetics.