choose Bliss Happiness Joy Knowledge Love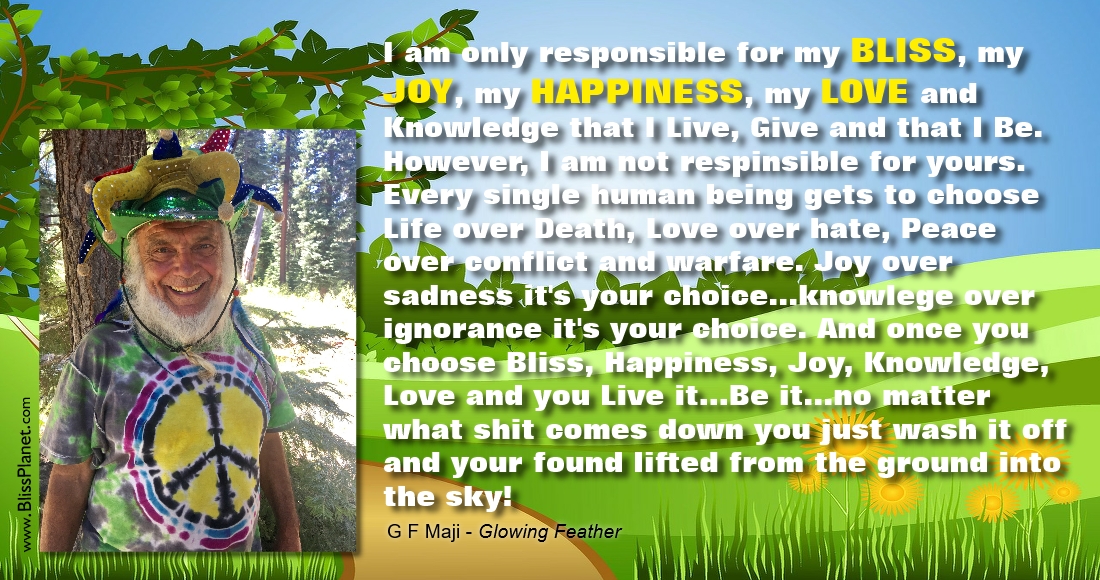 I am Glowing Feather from the Rainbow Family Living Light.
And it's my delight to share some insight with you. It's true that I've been coming to these gatherings since 1972 when I was only 23…now look at me at 68, but I still get to relate. I love seeing the youth come here. I know this…
That I am only responsible for my Bliss, my Joy, my Happiness, my Love and Knowledge that I Live, Give and that I Be. However, I am not responsible for yours. Every single human being gets to choose Life over Death, Love over hate, Peace over conflict and warfare. Joy over sadness it's your choice…knowledge over ignorance it's your choice. And once you choose Bliss, Happiness, Joy, Knowledge, Love and you Live it…Be it…no matter what shit comes down you just wash it off and your found lifted from the ground into the sky…
never deny your inner eye. And know this…
We love you…
I love you, you love me…
we are a happy Rainbow family with a great big hug and a kiss from me to you.
Won't you say you love me true?