Guy Dauncey A Servant For A Beautiful Earth ☮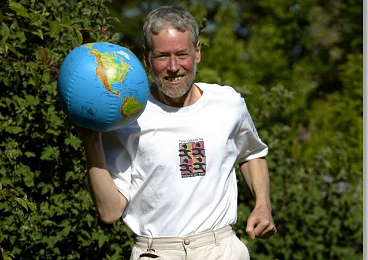 Steven Ferrel
When did you first realize that you had a passion for a healthy planet?
Guy Dauncey
I realized that I had a passion for a beautiful earth soon after I left school when I was eighteen years of age. Then I realized that the whole of the Universe was an amazing unity and I knew at an instinctual level that this unity was not just a material and biological unity, however, a spiritual one as well. So all my life I have worked to help realize the potential of our being here on this planet in terms as our ability to cooperate, to live in harmony with nature and to fulfill our highest potential as humans. My recent work is environmentally because the climate change is so serious that if we don't change our ways and eliminate our carbon footprint that we may not have a planet to live on. Otherwise I'm fully enamored of the amazing potential we have as humans to live in a different way.
Steven Ferrel
What was your first major step in becoming a messenger of environmental wellness?
Guy Dauncey
It is not so much environmental wellness, rather planetary wellness. My first step was to ask the question why is it that humans seem to live in a world of relative conflict and confusion whereas nature does not. And in asking that question I then went to the University to study sociology. I have been enamored with the principles of evolution and evolutionary theory because it shows the unity of all nature…the five fingers that we have are the same five claws that cats and other predators have and the same eyes that we have are the same eyes that an owl has. We share this same biological evolution.
Steven Ferrel
Why do we have a tail bone?
Guy Dauncey
Exactly, I always loved the process of Evolution, but, I always knew that there was a spiritual component as well. I came across the work of Teilhard de Chardin, the catholic paleontologist, and then I spent a year traveling in India during my degree and then I went overland with the Gandhi movement and I spent three months living in Pondicherry, India and discovered that Sri Aurobindo had asked the same questions as Teilhard de Chardin. They both concluded that evolution was a co evolution of the physical form and the inner spiritual consciousness. The greater the complexity of matter the greater its ability to hold consciousness and therefore have increased contact with the spiritual realms. This empowered me with the belief that I was really on the right track. There was a great
unfolding that was happening at an evolutionary level which I now call Syntropy as a balancing principle for entropy which purely reflects what is happening in the material level.
Steven Ferrel
Can you share with us one of your proud moments when you were aware that your efforts are making a difference?
Guy Dauncey
I've always picked up small initiatives…I've found things…I created the Victoria Car Share Cooperative. I formed the B.C. Sustainable Energy Association. I created my newsletter called Eco News. I do a lot of writing. Throughout my life I have had a steady flow of people say that that they find my work inspiring, that it's positive, that it gives them hope, that it uplifts them. I do not dwell on the negatives. I think that the biggest mistake that we make in trying to make a difference in the world is to dwell on the negative and blame people. However bad the corporations are, however greedy the banks are, and however corrupt the Bush administration may have been; whenever we dwell on the negative we lose our ability to be creative, we lose our ability to contribute to the new flow of ideas and impulses that need to regenerate our planet. I have many moments because I am 100% committed to this with my life…I've been self employed for thirty five years now and do not have any other work apart from this. I live with the knowing that I working as a channel of service to make a difference on the planet.
Steven Ferrel
Your book "The Climate Challenge: 101 Solutions to Global Warming" discusses solutions for global warming can you share with us a few that you feel would are extremely important?
Guy Dauncey
I first wrote this book in the year 2000 with the title "Stormy Weather: 101 Solutions to Global Warming" which is available now in bookshops and on my website earthfuture.com. What I am doing now is completely updating the book to a 100% new text so I am writing a brand new book. We have to visualize and then realize a future in which all of
our buildings are zero carbon and very efficient, all of our vehicles are electric and plug in hybrid electric. All of our electricity comes from wind, solar, solar thermal, tidal energy, and geo thermal. All of our farming is organic, all of our grasslands are changed the way they manage animals so the animals are building the grasslands instead of destroying them and all of our forests are managed as close as possible to old growth rhythms and we eliminate waste and become a zero waste community in which we extract all of the energy back from the waste stream. This is the big picture level of what needs to happen. The reality is that we literally have transformed the way we live in the last 100 years. None of the things such as airplanes, telephone, cars, faxes, I-pods, computers existed 100 years ago. So we have the ability to re transform the planet. And the speed at which we communicate we should be able to do it in 20 -30 years instead of 100 years. We need to move to a new energy model of 2.0 instead of 1.0 for our energy and eliminate fossil fuels entirely. We can work at this at the individual level by reducing our carbon footprint by eating less meat, by traveling less in fossil fuel vehicles…cycling more. We can do it at the city level and fortunately there are a lot of cities doing this in North America. We can do it at the country level, we can do it in businesses, churches, and we need to do it globally. Everyone needs to participate in this huge and exiting transformation!
Steven Ferrel
When your time on this planet is over … what would you like people to remember about you?
Guy Dauncey
For myself that I was a beacon of hope, that they found themselves re inspired, that they found meaning and purpose in their lives…that the work that I and others helped create gave them a sense of purpose about the direction that our planet is heading in. Humans are not a terrible disaster, a cancer on the planet or anything negative like that, rather a creative and harmonious partner that in one generation turned things around and redirected the planet into a place of beauty and love which future generations of children can feel exited about rather than afraid about. That I was one of many people that helped with that huge turnaround.
Steven Ferrel
May I ask what your primary message of wellness for the world is?
Guy Dauncey
Be positive …don't allow negativity, Cynicism and blame to colonize your mind, because not only will it make you ill, it will make you bad company for other people, it will make you depressed and probably die sooner. So be positive and always open your spirit to the Universe everyday and say here I am, how can I serve, what new challenge can you give me, I'm yours, I'm yours, I'm yours!
You can visit Guy's web site at www.earthfuture.com where you can follow up with a lot more interesting news.