Urban Warrior – The Future of Fitness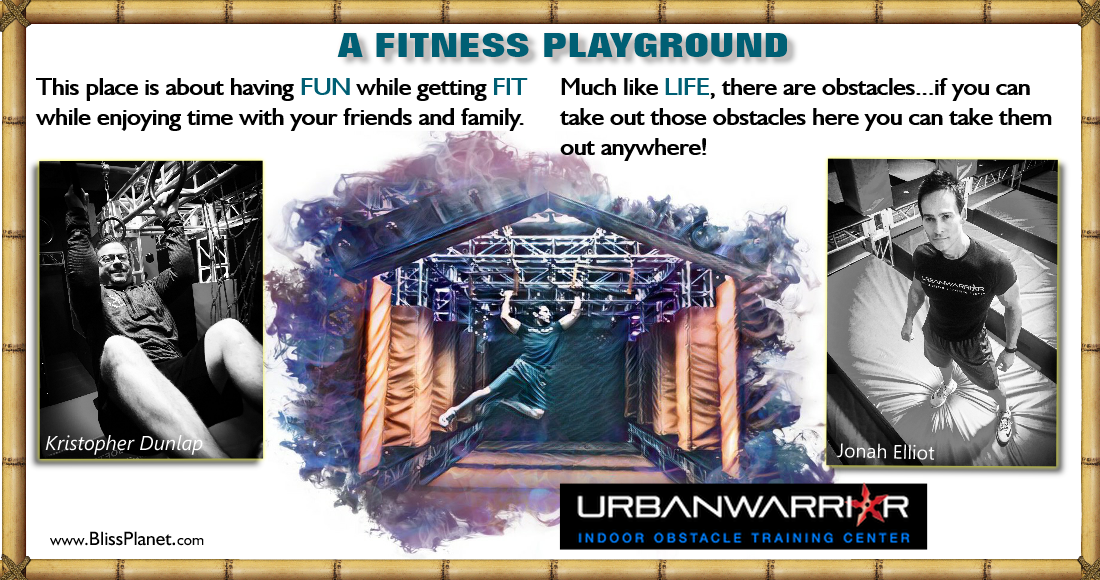 Hi, I'm  Kristopher Dunlap, one of the owners of Urban Warrior, I'm super excited to share my Goodness Message with you. This place is about having fun while getting fit while enjoying time with your friends and family…and is there a better message than that? Welcome!
Hi, I'm Jonah…welcome to Urban Warrior. I'm all about doing Adventure Training and that is what we do here!
Everything that we do here is about Fitness and Fun! Going to the gym used to be a chore, well it shouldn't be a chore, you should get to go to the gym…so here families get to play together, mom and dad who have a sedentary lifestyle now are enjoying time with their kiddos, the kids are getting off their screens…it's all about getting better and healthy and I said, when we create a business it's going to be something healthy and great for everybody and we've got it!
You are going to be setting off the, 'Oh my gosh… am I going to bite it?' those butterflies…but guess what? We are fully padded and I love the fact that we can do this in a way that is safe and fun. And you will learn to trust yourself more and more the more you do it and you will get better through it and much like life, there are obstacles…if you can take out those obstacles here you can take them out anywhere!
Kristopher Dunlap and Jonah Elliot
Kris and Jonah (both 45) have been friends since they were 15 years old and have always wanted to build a business together.
Kristopher Dunlap has a BA Degree in Management and Organizational Leadership from George Fox University, he served in the Oregon Army National Guard "Military Police Corps" for 8 years and was with the Portland Police Bureau as a Reserve SGT for 10 years. He had a very successful career in corporate financing, but was ready to build a business with his best friend when they found the right opportunity.
Jonah has over 15 years' experience with marketing and graphic design. For the last 10 years he taught lunch time boot camps. During a run on the waterfront, Kris and Jonah originated "UrbanWarrior" a philosophy of creating obstacles with your surroundings. He quickly discovered how rewarding it was to motivate others to get fit. Two years ago, he was watching American Ninja Warrior with his son Tyson. His son said, "Dad, I want to do that!" Jonah responded with, "Uh, I want to do that!"
They organized a project plan and utilized extensive research on ninja \ obstacle gyms and realized there wasn't anything like this in the Northwest. Finally, they found the business idea they were looking for!
Jonah made a commitment to this passion for adventure fitness and quit his job to focus on getting the business up and running. The past year was a struggle while finding a location, but thanks to the support of his family and best friend Kris, they finally made this dream a reality. There isn't a manual on how to build a Ninja Gym. The buildout took over 75 days, which may not sound like a long time but when you are a pioneer, you are doing things no one else has.
UrbanWarrior has been open for 3 months. Its thriving and is quickly establishing itself as the leader in cutting-edge recreation and fitness in Portland.
Adventure training is the tip of the spear when it comes to fitness. Getting and staying in shape has never been so exciting. It's a healthy, low impact, high caloric burn workout for the entire family.
Fact: Obesity is a growing epidemic. According to the American Diabetes Association, 13 million people in the United States deal with the health and emotional effects of obesity every day. The solution to their problem sounds deceptively simple — take in fewer calories a day, while cranking up the calorie-burning process with regular exercise.
The Problem: Traditional exercise isn't exciting and doesn't keep the average adult or child's attention long enough to be consistent and effective.
The Solution: Urban Warrior's mission is to make exercise fun by offering the excitement of adventure training with our indoor obstacle training facility. We have the look and feel of the show America Ninja Warrior infused with some obstacles found in the Obstacle Course Races such has Spartan, Tough Mudder and Warrior Dash. We are proud to drive inspiration to the communities around us by fighting obesity in adults and children from ages 6 to well-seasoned adults!
Visit Urban Warrior Website at www.urbanwarrior.fit